ALDI: A private brand powerhouse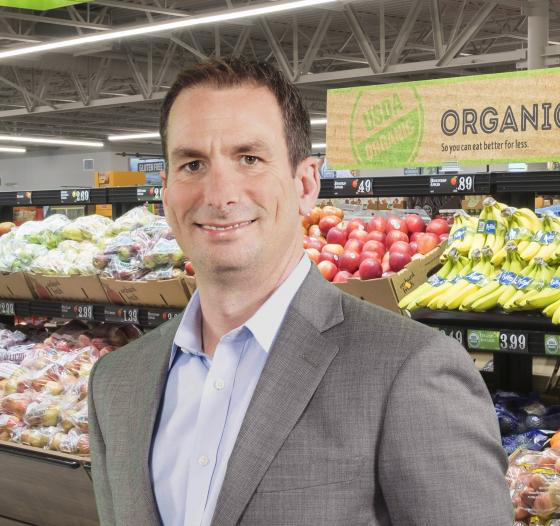 ALDI Co-President Brent Laubaugh says store brands "are part of our DNA."
Something big is brewing as ALDI embarks on its journey to become the nation's third largest grocery retailer by 2022. And this "something big" is also disrupting the entire grocery industry.
Batavia, Ill.-based ALDI, which opened its first U.S. store in Iowa in 1976, has always been known for its low prices of private-branded consumer packaged goods (CPGs). But in the last five years ALDI has gained a reputation for its quality of private brands in addition to its low prices. ALDI, which offers more than a 90 percent assortment of private brands under multiple lines, is also garnering recognition as an innovator of store brands and a place to shop for premium and exclusive items.
Considering that ALDI is in the midst of a major expansion that will see its footprint grow from more than 1,800 to about 2,500 stores in the next four years, its impact on private brands could reign historically in grocery industry annals.
Aldi's Store Brands
ALDI offers a multitude of private brands in many food, beverage and non-food categories. Here are some of the most popular:
· liveGfree — gluten-free food line.
· SimplyNature — organic and natural line of food and beverage products made with "honest ingredients."
· Specially Selected — gourmet food products.
· Fit & Active — healthier food fare.
· Little Journey — baby products.
· Mama Cozzi's — frozen pizza and related products.
· Parkview — hot dogs and sausage.
· Kirkwood — fresh and processed meat and poultry products.
· Sea Queen — fresh and frozen seafood products.
· Little Salad Bar — salad and related items such as hummus and dips.
· Baker's Corner — baking ingredients.
· Friendly Farms — milks and non-dairy products.
· Stonemill — spices.
· Winking Owl — wine.
· Millville — cereal, bars and related products.
· Clancy's — salty snacks.
"I'm extraordinarily impressed with ALDI," says Carl Jorgensen, executive vice president of Chicago-based market researcher Linkage Research & Consulting, and an expert on thought leadership in private brands. "ALDI has raised the profile of private brands and raised its own reputation among consumers."
Simon Johnstone, director of retail insight for Boston-based retail consultant Kantar Consulting, says it took a while for grocery industry pundits to start talking about ALDI's impact, considering the retailer has been in the U.S. for more than 40 years. But the talk is happening now and is growing louder.
"ALDI didn't come to the U.S. with a lot of fanfare," Johnstone says. "It has been sort of a sleeping giant in that sense. … But retailers are really starting to take ALDI seriously as a competitor."
During his speech at the Private Label Trade Show last November, Fred Morganthall, the former president of Harris Teeter Supermarkets, talked extensively about ALDI and how disruptive it has been and will continue to be in the grocery industry.
"If you're a retailer and you haven't taken your top 20 or 30 items that you sell today and cut them against ALDI's top items, you're going to be in for a surprise," Morganthall said. "It's amazing the quality that ALDI presents today."
ALDI Co-President Brent Laubaugh is aware of the praise coming the retailer's way from industry pundits, consumers and even unnerved competitors. But the modest Laubaugh, who's in his 25th year with ALDI, doesn't let on much.
"Success is never something that is achieved," Laubaugh tells Store Brands in an exclusive interview. "It's something that you are always working on."
For ALDI's rise, for its industry disruption and for the way the retailer approaches success, it is Store Brands' 2019 Retailer of the Year.
ALDI's German Roots
Aldi's roots are in Germany, where it is owned by ALDI Sud (South), a historic leader in Germany's private label grocery industry with roots dating to 1913. ALDI Sud operates more than 5,300 stores and more than 80 distribution centers in nine countries. ALDI's U.S. operations are independently managed and operated.
While ALDI's growth in the U.S. began slowly, the retailer has ramped up its presence in the past decade. From 2008 to 2018, ALDI doubled its size in the U.S.
In 2011, when ALDI opened in New York City, the New York Times wrote this about the retailer, "The company capitalizes on the bargain hunter, who is not embarrassed to choose frugality over name brands."
But 2011 may as well have been 100 years ago when considering ALDI's advancements. ALDI's push to offer better quality and more innovative products has resonated with consumers — all consumers, according to Jorgensen. Citing statistics from Linkage Research & Consulting, Jorgensen says, "Contrary to what one might expect of discount grocery, ALDI does not skew toward low-income shoppers. In fact, ALDI under-indexes on shoppers with incomes less than $30,000. Its sweet spot is households making $30,000 to $99,000."
ALDI's shopper base has blossomed to about 40 million customers monthly from 25 million in 2014, Laubaugh says. But the executive, one of three ALDI co-presidents, also knows the key is to keep those customers returning.
"ALDI knows that to grow shopper penetration over the long-term — wanting shoppers to like them, trust them and ultimately recommend them — it has to move away from just having a sole focus on being a price-focused retailer," Johnstone says.
ALDI CO-PRESIDENT BRENT LAUBAUGH ON...
ALDI's basic strategy:
"In a nutshell, our goal is very simple: It's to provide a really great shopping experience for our customers and offer high-quality products at affordable prices. Our private brands are integral to our success."
Private brands:
"Gone are the days when private label products were sitting single-faced on the bottom of the shelves in the store. We feature [our private brands] front and center with great lighting and packaging. All of that really reflects the pride that we have in the quality of those items."
2019 being his 25th year with the retailer:
"I've had the opportunity to see ALDI grow pretty dramatically from being a regional Midwest chain. I've gotten to see the development of all the products and all the stores. It has been rewarding."
ALDI's suppliers:
"In 2018, we won more than 400 product awards. That just doesn't happen based on our own work. It's a real testament to the relationships and partnerships we have with our suppliers."
And that's precisely what ALDI has done. In the past five years, ALDI has answered the industry calling card to differentiate itself from its competitors through innovation.
Much of that began in 2014 when ALDI launched its liveGfree line, the first store brand gluten-free line of products in the market place. That year, ALDI also debuted its SimplyNature store brand, which features organic and natural products made from "honest ingredients."
In 2015, the retailer removed all synthetic colors, partially hydrogenated oils and added MSG from its private brands products. In 2016, ALDI launched Little Journey, a private label line of diapers, wipes, formula, organic food and snacks for infants and toddlers. In 2016, ALDI introduced its Never Any! branding to its Kirkwood, Appleton Farms and Lunchmate private-branded meat lines. Never Any! features products made without antibiotics, added hormones or steroids and animal by-products (vegetarian fed).
Last year, ALDI expanded its private brand fresh offerings in stores by up to 40 percent with more ready-to-cook and organic fresh meats, produce, vegan options, grab-and-go convenience items, baked goods, plant-based milks and refrigerated beverages such as kombucha.
Innovation has led to exclusivity. Consider ALDI's Sriracha carrot hummus sold under its Park Street Deli brand, its bourbon whiskey and bacon smoked sausage sold under its Parkview brand, and its zesty Italian meatless meatballs (made with soy protein, onion, garlic, basil and herbs) sold under its Earth Grown vegan brand. Consumers are going to ALDI to purchase these products because they probably can't find them at any other grocer.
In addition, ALDI offers several private brand lines of mainstay products such as Clancy's (salty snacks), Millville (cereal, bars and related products), Mama Cozzi's (frozen pizza and related products), Sea Queen (fresh and frozen seafood products), Little Salad Bar (salad and related items such as hummus and dips), Baker's Corner (baking ingredients), Friendly Farms (milks and non-dairy products) and many other food, beverage and non-food items.