Edgar Elzerman Interview with Arjan Both – Vice president, Global Sourcing Packaged Food, Walmart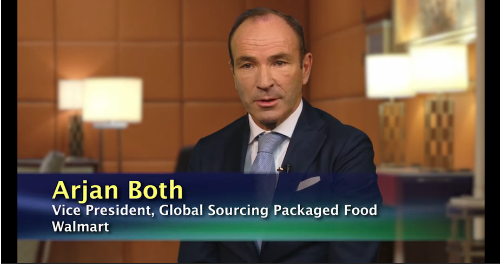 Ed:
Welcome to PLMA LIVE, Online video series that put you face to face with people making news in the world of store brands. I'm your host Edgar Elzerman.
Retailers recognize the role of a strong private label program plays in boosting the profitability, building differentiation and improving consumer loyalty. Sourcing professionals are challenged to balance a number of critical considerations, including cost, product quality, speed to market, production and order flexibility as well as ethical sourcing objectives. This month, we are getting a really insightful perspective on the scope and impact of private label sourcing for retailer. I'm here with Arjan Both, Vice president, Global Sourcing Packaged Food, Walmart, during his international career Arjan occupied leading positions involved marketing and sourcing and led 2 of Europe big sourcing groups. Arjan. Welcome to PLMA live!
Arjan:
Thank you. Edgar.
Ed:
Arjan, 2 years ago, you decided to pick up a global sourcing role in Walmart based in U.S, What has been your experience so far?
Arjan:
We've a lot of opportunities. So I mean the day unfortunately, has only 24 hours because I could work there for 48 hours a day. There's a lot of things to be done. The company is really in strong transformation. So we love to change, we are embracing change to move faster in every discipline within Walmart.
Ed:
What do you think of the ambitious co-players the German discounters Aldi & Lidl in the U.S?
Arjan:
Actually, I think that's a good thing that the German discounters, I have learned also in Europe, they have very very good quality. Some of them are even better than national brands. You see the same in the U.S where I would say the average private brand is not as good as national brand. So luckily within Walmart, we are upgrading our products as we speak. I think last 3, 4 years we have done already a great job. But we are not there yet. I think, competitors like Aldi and also Lidl are only helping us you know to go faster to get to better quality levels. We should have better quality levels now.
Ed:
Would you say that Walmart today is more focused maybe than ever on private label?
Arjan:
Walmart is probably the fastest-growing retailer in U.S in developing private brands. Because we believe we need that for the future to be completely, you know, outstanding and differentiated versus the competitors. Online and offline.
Ed:
But still there are a lot of room and opportunities for private label growth in the U.S, especially in the fresh area, correct?
Arjan:
Absolutely, we still see, even within our stores, and I'm challenging that almost every day. Why do we have Driscoll's(https://www.driscolls.com/), you know that's a brand in fresh food, why do we have Dole (http://www.dole.com/), why do we have Del Monte(https://www.delmonte.com/). I mean, but we are changing that, you will see more and more on Marketside, which is our brand in the fresh area. Because we need to own it. I mean food is going to be a key driver for future shopping. I mean it creates traffic. Then we need to brand it with our own brand not with national brands, you know.
Ed:
What about the private label growth across U.S? Are you surprised at its popularity?
Arjan:
No, I mean we always thought there is sort of ceiling at least 50% or 60%. But I think, that's a self-filling prophecy. I think there is no limit to it. It's all about developing new concepts going more into the fresh area, developing new convenience products also in the health and beauty world. I mean, I think we can reach even level of 70%- 80%
Ed:
Which retail in Europe is a good example for private label, Arjan?
Arjan:
I would say, not because I am Dutch. I think Albert Heijn is one of the best in the world in terms of private brands. I mean, not everything is perfect. But I mean the way they have kept brand contemporary, they kept it relevant and constant innovation, especially in the fresh area, in the convenience food area.
Ed:
Do you still advocate the traditional 3Tier approach on private label or do you think that another strategy is required today?
Arjan:
The mistake we all made, including myself, if just go back 20 years, before you know the German discounters we need to create all sort of price entry brand, relatively poor quality as long as it's messing the price, terrible design! Because we didn't want to touch our own private brands. We have seen that didn't work. I mean, the Euro shops, the aha, basic I know they are still there, but I mean, those days are over, I mean you need to compete Aldi & Lidl, you know with your best weapon, which is private brand. It needs to be matching them the quality firmly better, you need offer them the same price. I think we will go to maximum 2 tier brands, national brands should be challenged by your own private brand. In some case, you have some sort of premium specialty brand.
Ed:
But it almost sounds like the retailer should make a huge investment in margin, correct?
Arjan:
Let's not get nervous that suddenly you start eroding your profitability. I mean, normal discounters have nowadays maybe 15 hundred SKUs, right. Where there's you know in every private brand assortment in Netherlands, in Germany, in France, we talk about 5/6/7,000 maybe 10,000 SKUs. So you only need to match them on the price on those 15 hundred items. So it's not that you're lowering your whole private brand to the lowest level to the market. No, not at all, you still have good margin mix.
Ed:
So retailers are increasing using of private label to differentiate from competition, what does that mean for suppliers?
Arjan:
Suppliers, I would say, can play a big role there. I mean, they need to be more proactive. If they see they can add value by improving the quality of the products. Quality improvement is not always, not that it is, better washing, or better taste, is also become maybe more sustainable or healthier, right? Taking salt lower levels or sugar lower levels. I mean they need to be more proactive there, I would say.
Ed:
That almost sounds like innovation is a key for suppliers to be successful.
Arjan:
Yea, I would say be cautious. Because I mean suddenly you know you can be only innovative. I think the name of the game is that you need to able to do both. You need to be you know cost efficient, not just be able to cater for innovation. So I think that's new game we need to learn to play as retailer and as supplier.
Ed:
Arjan, when you think about the partnership with suppliers, does it mean you would like to have full transparency on each cost component of product?
Arjan:
In some cases, we are doing that already, we are at the level we wanna have it. Again I always say to suppliers that open book is really open book. So let's look at where you buy packaging materials, what are you paying for it. Because frankly speaking we are able to buy raw packaging material cheaper than the suppliers so we are helping them as well to lower the cost. We call it, every day lower true cost. By working together.
Ed:
What about the packaging of product? Is it also important to you?
Arjan:
Changing a packaging should always have 3 reasons. Right, I mean it either is lower cost, or better functionality, more attractive for customers, for example, the slim cans, the beverage business, and also you know, we can use less material. Or more sustainable material. I mean, ideally, we would like to cover them in 1 go, but those kind of steps, we are in the taking, I believe we will see more in the near future.
Ed:
Would you consider working with European suppliers?
Arjan:
We are really actively talking to European suppliers. Trying to get them enthusiastic. Suppliers initially by exporting their products to U.S, the east coast. And even in some case, people set up shop or factory in the U.S, because, that can really disrupt market in terms of better quality and lower cost.
Ed:
So you actually see a lot of opportunity for them?
Arjan:
If you know our business is growing double digit with great value, the biggest private brand in the world and also our member's mark, the brand of Sam's club, also grow double digit, and we know we double the business in 5 years. But even the supply capacity is not there in the U.S, so we need to have suppliers willing to come over to our stage.
Ed:
Thanks Arjan for helping us understand better what excellent sourcing means to today's market. And retailers and suppliers should work together to make it happen.
Arjan:
Thank you.
Ed:
And thank you for watching this edition of PLMA LIVE. Please join us next month for another exclusive interview.